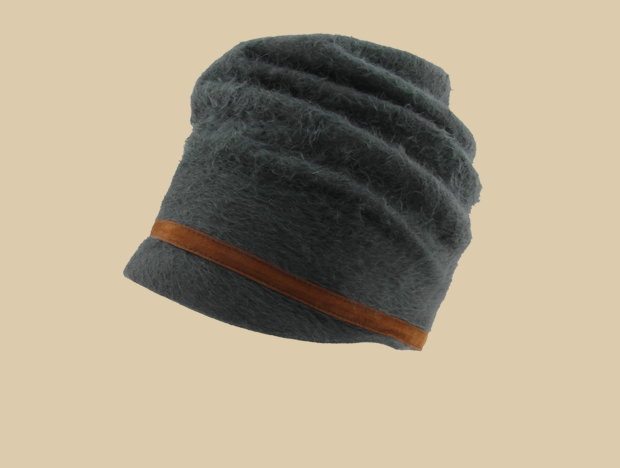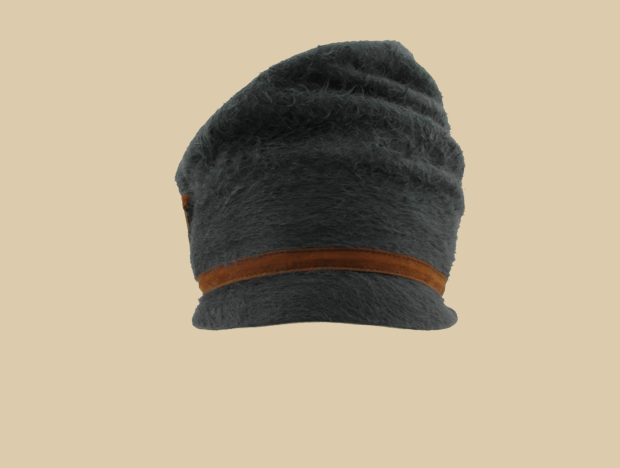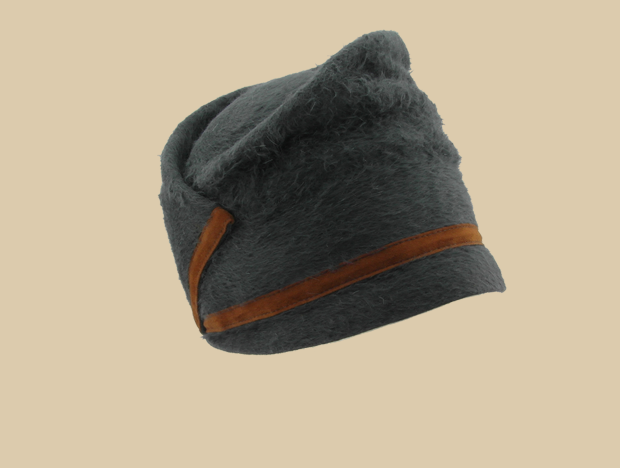 overview
-handmade by Judith
in Amsterdam
-ready made
-online only
This grey turban/ cloche cap called 'turban recycle hats' is part of one of my recycle projects. For this project I buy old second hand hats, disassemble and clean them and than, depending on their size and my inspiration, I create, pull, sew, new forms of them. This special felt rabbit got to me in a different way, it was handed down by a milliner who didn't find it useful for his own design. So after he had already pulled and dried it, I worked it in the same way I do those second hand hats, with the difference that this one is pre consumer.
Turban recycle hats, which can be worn as a cloche cap is made of a rabbit felt with asymmetric forms which can be worn as a turban or a cloche cap, by pulling the folded part down and wearing this to the front. The pleats are not fixed giving you the option of pulling the hat far down over your face and having enough space for hair to be tugged under the turban/ cloche cap. The brown trimming accentuates the color of the grey felt and gives a playful accent to the whole. The turban/ cloche cap is not lined and only has a petersham ribbon inserted. Because of the trimming the hat can not be sized and is therefore a small M/ medium, 57cm to be precise. Please read the information on taking measure before ordering.
Turban recycle hats can not be washed. In general felt hats do not get washed. They can be steam cleaned, not at the cleaners this is something only milliners know how to do and of course the petersham ribbon can be refreshed or replaced. Also a felt hat can be formed back to shape. If you find it needs cleaning, refreshing or forming please use my cleaning service. For storage I advise a closed plastic bag preferable in a hat box or in a place where the hat does not get squashed out of model.
Turban recycle hats is a true 2 in one hat. A timeless companion, dressy and casual in one, swell as warm and ready to be shipped within 3 working days after receiving the full payment credited. Please read the general terms and conditions for detailed information.

• 56 cm= S
• 58 cm= M
• 60 cm= L
• 62 cm= XL
• 64 cm= XXL
Further more you have:
• 1fA = one fits all, not bound to any size wearable by every size

Other sizes in centimeters are anything between 54cm en 64cm. In general these are custom made sizes often used for personal designs or unique pieces.
To be able to chose the right size it is important to be accurate when measuring your head, ideally you let somebody else do it.
Go to work as follows:
With the help of a soft centimeter, measure around the head, starting at the front approximately 1cm above the eyebrows towards, approximately 1cm above, the ears and over the biggest part of the back of your head( that little bump on the back of your head). Please see picture to give you an idea.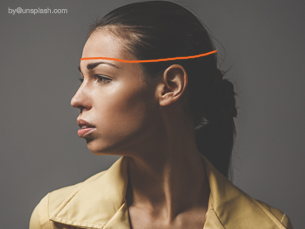 If you are not sure that you are measuring in the right way please contact me. We can set up a Skype meet, so that I can guide the measuring. A friend at your side to help would come in handy, but is not insurpurable.
Once measured you can read in the tab sizes which size you need to choose. Choose the size closest to your measured size.