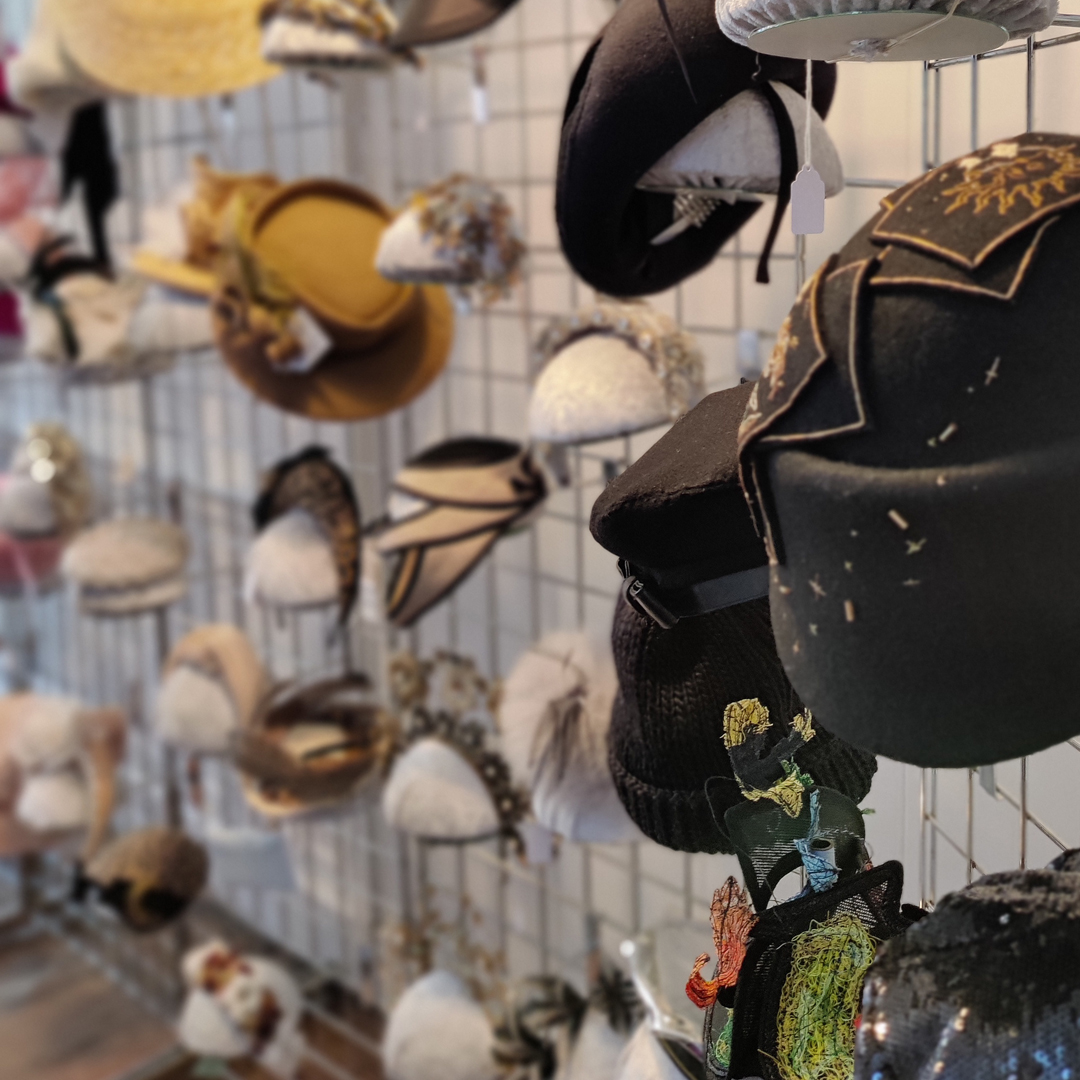 xpozai @LHW Pop-Up store
Time flew and...
London hat week Pop-Up Store 2022 is history.
All the lovely hats that haven't found a new home are on their way home now from London. They hopefully fully enjoyed hanging out with like minded brothers and sisters in that lovely store on 42 Brushfield Street run by @xterrace and @thehatcircle, while I was back home( what was I thinking, missing out on all that fun?!).
If you had a chance to see my work from close up, I hope you enjoyed it? If you missed your chance you can still see and purchase various of my designhats on thehatcircle.com
It was my first time participating at a pop up shop and it was very exciting. Especially the part of shipping my hats back and forth, is quite nerve wracking, if I'm to be honest. It took my hats ages( 3x longer than my postal company told me it would take) so now I'm curious as to how long it will take them to come back home. Not to mention the worry, if they were actually packed securely enough, have you seen some of those parcels, my worst nightmare! Imagening what my fascinators and cocktailhats made of sinamay would look like after somebody deposited a 20kg parcel on top of my parcel :(
One thing I have learned from this experience, except needing to invest in sturdy shipping equipment, is that next year London Hat Week I want to be in London as well, wouldn't that be swell? You might not know it but it's a week full of hat exhibitions of famous milliners and hat workshops by outstanding craftspeople, the place to be if you want to dive deep into hats and I do:)
The snapshots are from the lovely team
@xterrace and @thehatcircle
and show some of my
designs hanging out
Have a lovely💕 day wherever you are
I'm gonna have a sunny Sunday
Back here in Amsterdam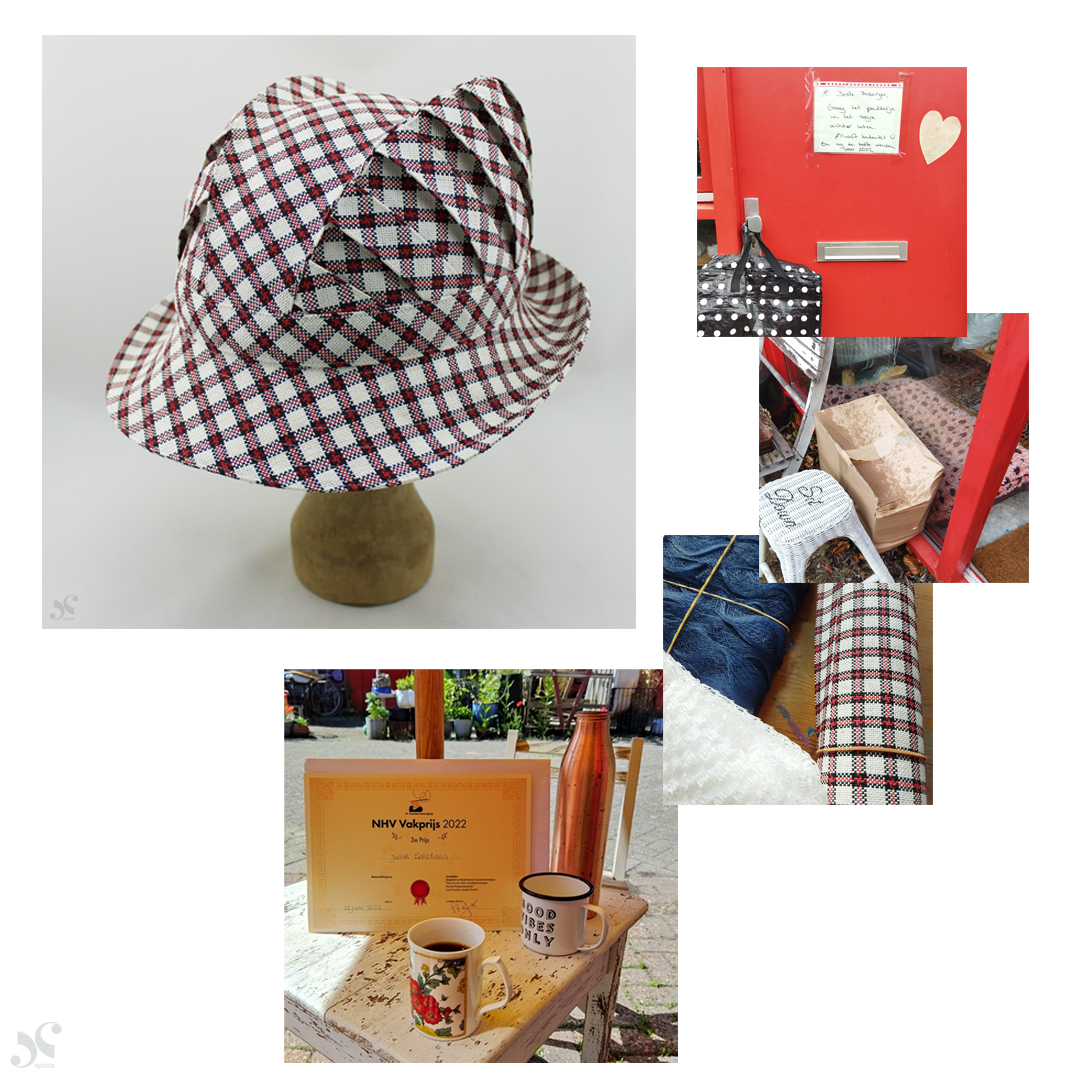 3rd @nl_hatassociation competition
3rd prize @nl_hatassociation competition 2022
I was flabbergasted to be announced 3rd at the 'Vintage with a twist', international hat competition organised by the dutch milliners association.
There isn't much I can say about this, actually, I still can't believe it!!!
Ok, I've thought of something to share with you. Well you see I saw the announcement of this competition past december and I was so excited. The challenge of designing something fitting into the period of 1940-1969 really resonated with me. So I waited for my competition parcel to arrive, you see, we were to work with materials used in millinery from the mentioned time period, never actually standing still at what those materials might be. I was probably at the time to busy with my design for the Bes Ben hat competition, organised by @milliner_guild which needed to be entered at the beginning of this year.
When finally the parcel arrived, from @plooijhatsandmaterials, after being send back and forth( you know these things right?) looking a bit battered I was so happy and curious, but oh man! I opened the parcel and while unpacking the three materials, all that creative energy that the announcement of the competition had arroused, drowned. My creative 'something' had emptied, like with the click of the delete button?!
After the first shock ebbed away I made some half hearted sketches, not really being satisfied with my input, but also not wanting to be empty handed at the end. I mean, you need to enter something to a competition, right?
So in-between time while these materials lay on one of my working benches, I was asked to participate in the art exhibition @kunstcentrumdekolk and because I couldn't come up with a satisfying design idea for the competition, I thought why not.
Somewhere during the time while I was making new hat designs to accompany @attenna_s and @norbertwille I was playing with the corner of the checkered woven paper and started folding it.
It's impossible to describe what that feels like, that moment when you know where you are going with a hat design.
The assignment read: to use the 3 given materials as main materials and only to add secondary materials if they already existed in the time given period and not to let those added be dominant.
I decided on a mens hat, a trilby, which at the end of the 1960'ies made a great development. One of them being that it's brim got shorter and shorter which was giving it the name of a 'stingy' hat.
On my retina I saw this fast, sharp and edgy little hat. I left out the two materials that didn't speak to me and only added some rayon for the lining, which I had to research if it already excisted in that time. Just like polyester thread, spandex and the serger stitch. So that is why entering a competition is just great, you learn thinks you might normally not think about.
3rd :) I am so happy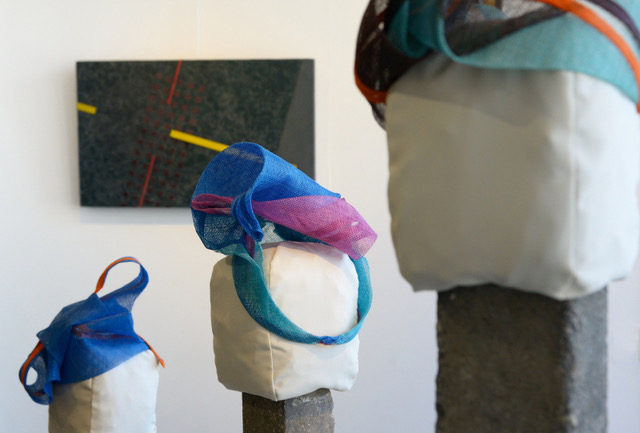 exhibition @kunstcentrum de kolk
The exhibition was a blast!
Everybody was super happy about the outcome, so that was a real relief! I got to say, I was nervous, so nervous that I didn't feel like going to the opening, yeah, sorry guys. But in the end I was really happy to see you all, it was all very easy going so next time, I'll be fine:)
It was only my second exhibition ever and the first time together with artist from different disciplines. I was invited to accompany @attenna_s and @norbertwille in this exhibition called 'Assemblages' and I designed these sculptural headpieces especially for @kunstcentrumdekolk to accompany the works Annetta and Norbert.
These headpieces arise from the 4in1 hat that I designed some years ago. The 4in1 was made from dike cover( a very atypical hatmaking material) and its design was based on the Japanese technique of origami. As Attenas work is very colourful and Norberts work is full of strong lines, it seemed logical to combine those two aspects in a, for me quite new material, sinamay. This material derived from the abaca tree is light, transparent, flexible and is therefore used a lot in millinery.
I think this was only the beginning of this study. As I was working on it I found many more interesting options which I will investigate in the future. For now I am really happy and proud. The biggest compliment I was given at the opening was that I merged our works. And yes, I will investigate other hatstand options before the, hopefully, next exhibition.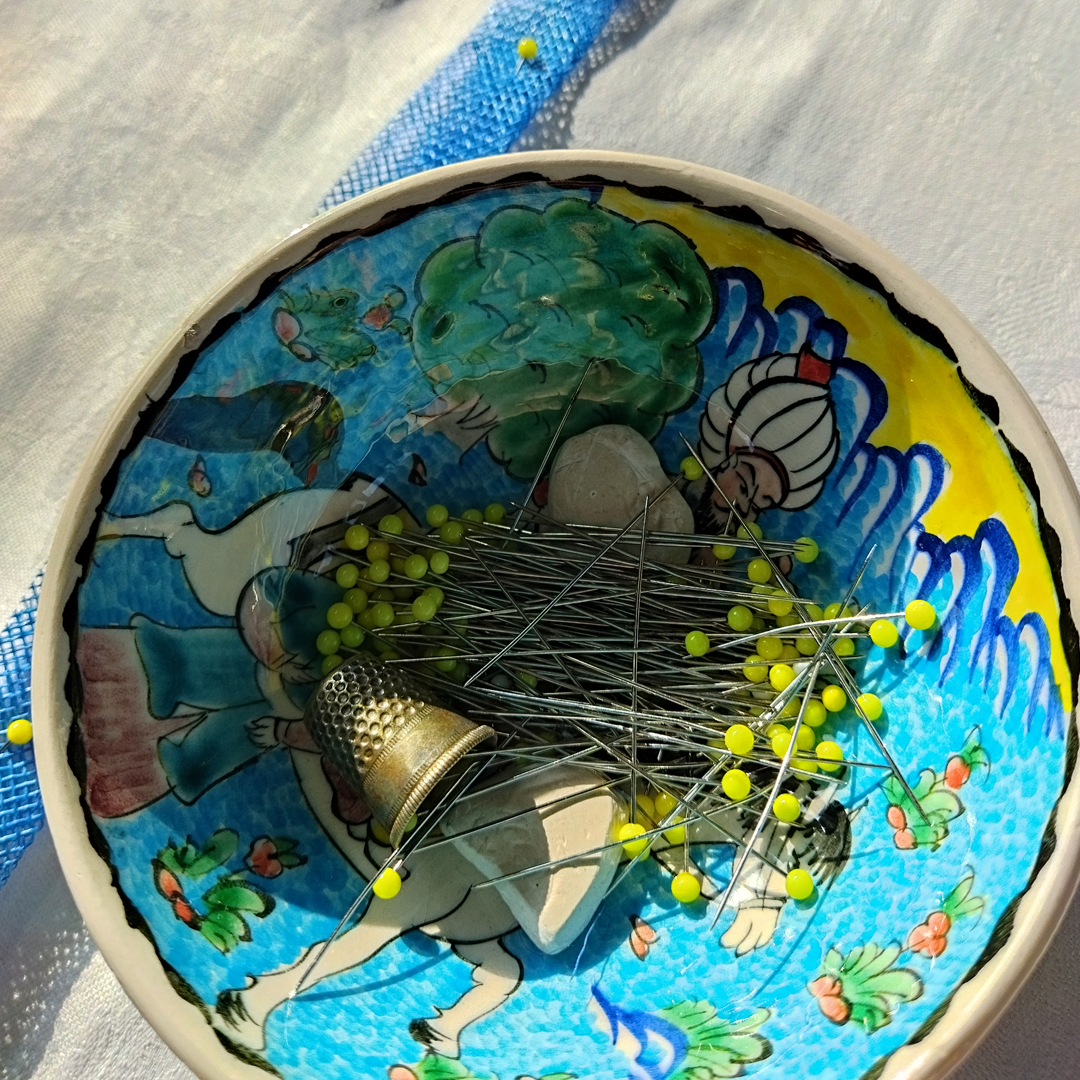 the world is...?
While the world is in shock,
I am working. It is the only way for me to digest all of this… but also, there is a deadline! Working with others, makes that you just have to go on. The strange thing is, that just the right colour combination can remind you of what is going on outside your own bubble. I am working in 'dubio' as I feel very honoured to be asked to take part in this exhibition and guilty 'cause people are fighting, dying and fleeing and what do I do?
It is unbelievable! I have been thinking if I should add a design in the 'right' colours to exhibition and if the Russian cap which is part of the 4in1 model, should still be called the Russian cap even though the design was made in a time where Russian was no problem.
And I mean what is 'right' and who decides this? People are dying, on both sides, people are fighting, on both sides and people are fleeing on both sides. All I know for sure is that my heart is bleeding for all.
You might not agree with me and I know that this is a place where you buy hats, but these are subjects, feelings and thoughts that keep me, as a designer, busy. And these thoughts and feelings influence my designs, probably even without me noticing.
Being German and growing up in foreign countries, in a time where people still remembered what the war had done to them, their loved ones and their countries, was not for the soft hearted. Name calling was very normal and conversations stopping after questions about my accent happend regularly.
All I hope now, is that those fleeing and emigrating to other countries, no matter their nationality will have a warmer welcome.
I will need to talk about this with the art center and my fellow artist to decide what to do, but in the mean time, my heart will just not stop bleeding!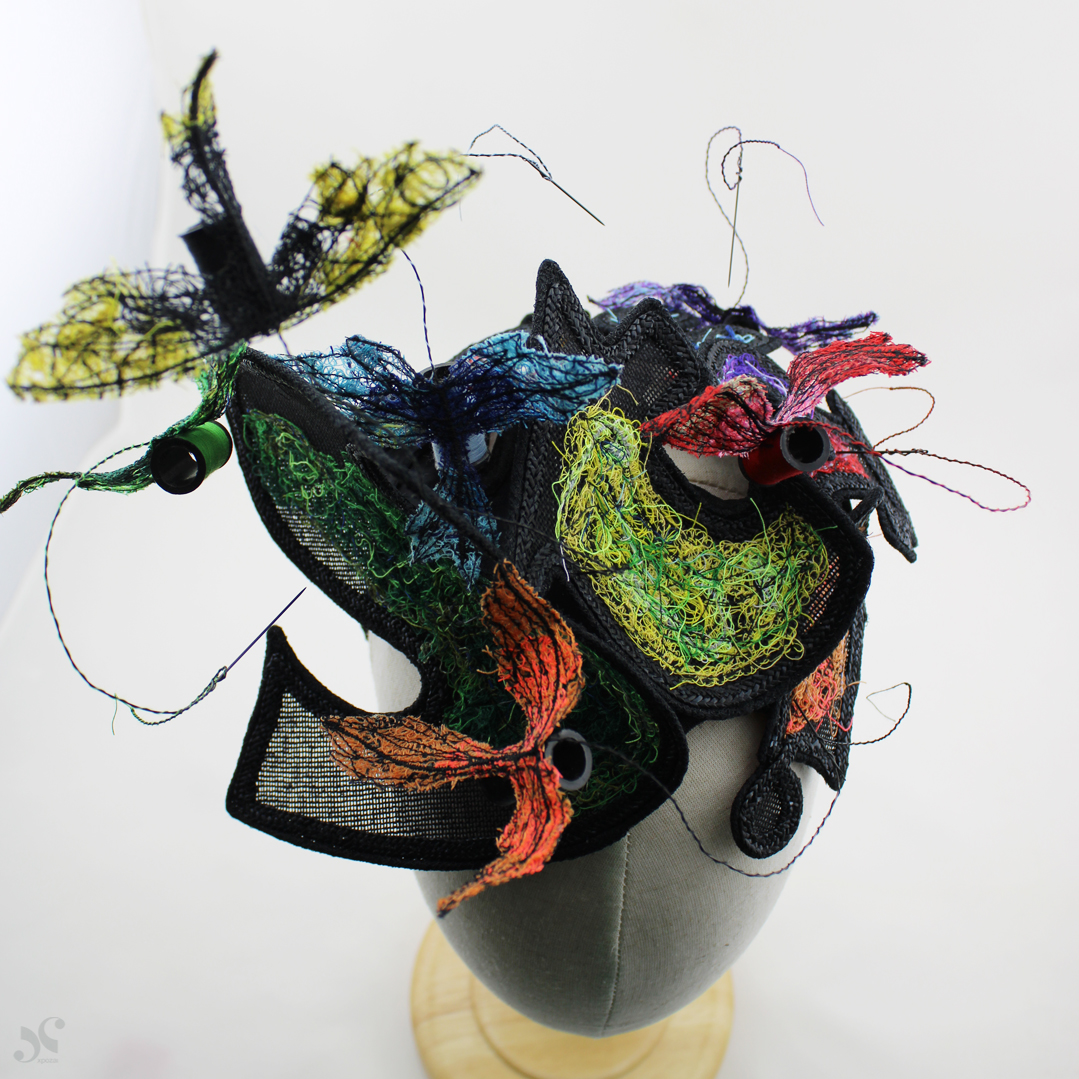 bes ben competition entry
'Stitch me up' was my entry to the american milliners competition in honour of Bes Ben, Chicago's mad hatter. It took place at the beginning of this, 2022, year and I entered this, my first, compettition because I was inspired by Bes Ben's history.
Benjamin B. Green-Field (1898-1988) was a Chicago born hat designer who opened a boutique in the 1920s with his sister, Bessie. Their shop was very successful, but in 1941, with the onset of the war and a new scarcity of materials, he changed his style and began creating the humorous and whimsical hats we think of today when we hear Bes-Ben. He used anything to trim a hat - kitchen utensils, figurines, playing cards, cigarette packs, and more.
The scarcity of materials is what triggerd me most, I think. As a beginner in hatmaking, there are many tools that you need to acquire and that takes time and money. Aside of that, I love to upcycle and work with untypical materials ever since I started making clothes, way back, like 31 years. My favorite item from back than is a plastic swimming pool that I turned into a dress to use as a candy girl on house parties. I actually found a picture the other day, I'll see if I can somehow share that.
But back to my fascinator 'stitch me up'. I used donated bobbins and thread cutt-offs to make little flying birds. With their thread, the birds are adding colour to the the black buckram characters that put together say 'stitch me up'. The buckram characters are wired and trimmed with black straw braid and sit on a wired base shaped to the heads form and are worn with a diademe tripod.
It was a steep learning curve, from making the lace like bird wings, to working with wire and all the things you don't think of before hand( like time managment:)) and I loved it! I didn't win anything but I learned a million.

xpozai @thenextcloset.com
In the past before making hats I did many other things. One of them was designing and producing costumes for various artists.
A while ago one of these artist came by to take some pictures of one of those costumes. It was a real treat to see my old work, I was a bit flabbergasted by the craftsmanship and somehow surprised that I had made it. It is funny how fast you can forget certain things, but I do see this back in my hats too, I am a very neat worker, even though I say so myself.
Now she is selling the costume which is a 2 in one, with all small attributes to click on and off so that in the end you can at least create 3 looks. It's a great costume that would also work great for a wedding.
She presented it to thenextcloset.com who sell vintage and second hand Prada and Gucci and they were happy to accept this 'beautiful brand'( not my words) to their exclusive site. I feel honoured! http://thenextcloset.com/maxi-jurken/xpozai/594571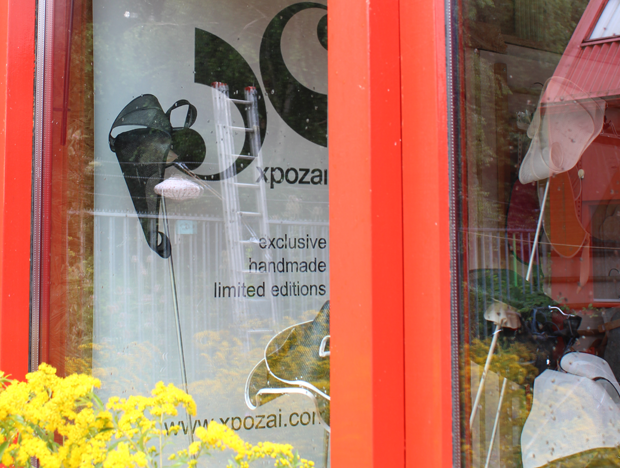 studio @broedplaats de Heining
For some time I have been looking for a place to move with my studio. Working from home has, beside a serious shortage of space in my case, pros & cons which everybody who hadn't experienced it before, is now, after corona, more than aware off, so no need to go there.

After long searches my husband tipped me for a space and OH MY GOD!!!
I had totally forgotten what it is like to go to work and be surrounded by people, not to speak of there being no dishes, no laundry, just no distractions, except for all these new artists & designers that come with the space. I actually have met more new people in 3 month than in the last 5 years. Talk about inspiration and than this place is actually next to nature thats like…..
Heavenly:)
p.s.: did you know the translation for 'broedplaats' is breeding ground? To me that sounds like animal breeding, I mean we are, but maybe there is another term? Anybody?
p.s.s.: my first ever window, still need to do some painting but doesn't it already look great?
Ok, I'm fishing:)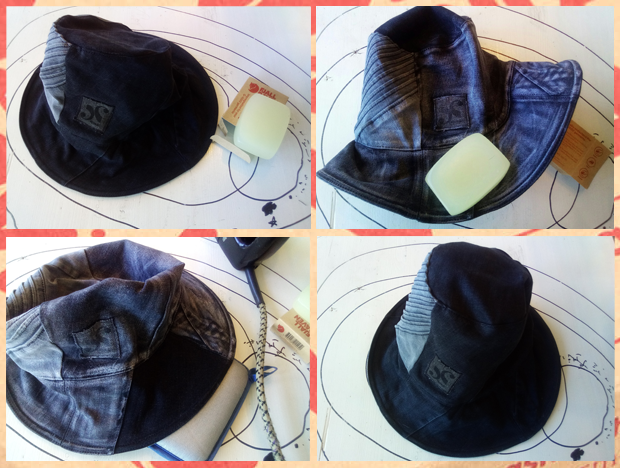 greenland wax to the test
Spring 2020 was when I produced my first 100% upcycled brimmed hat, made from upcycle denim. I was really happy with it except that due to the material it was not water-resistant, which in a country like the Netherlands is simply not handy. As I like to say to my relatives abroad, it rains all the time!".
After some research I ended up at the store Bever, where an enthusiastic young lady pointed my attention to this (environmental friendly) product, made of beeswax and paraffin. It comes in cardboard packaging and looks kind of little for such a big job, but who knows. Fjäll räven developed it back in 1968 to impregnate their own main material called G-1000 which is a mix of 65% polyester and 35% cotton. So my thought is that for modern denim, which often is also a mix of different synthetic materials with some natural fibres, It should be perfect.
It is easy to apply, by stroking the block of wax in a regular pattern over the hat. Once that is done all over, all that is left is to heat the wax, so that the product melts into the material, for this you can either use an iron or a hair dryer. And than, your ready to go and enjoy the rain!
For real it works just like with those canvas tents in the 1970ies. I tested it in rain and with just 1 layer my buckethat was water-resistant and a lot more isolating to wind. So let spring come I'm ready:) Are you? If not here is where to be https://www.bever.nl/p/fjaellraeven-greenland-wax-LBABXX2003.html?colour=5806 and don't forget to buy your buckethat currently @ http://re-bell.nl/contact/

limited deadstock
The pleats jeans serie came to mind when a befriend designer gave me 10 meters of left over jeans, from their now closed factory. This is such beautiful material, especially for the pleats that I stitch into each design, that the chance that I will get hold of something like this again, is very small. If I have to buy an equivalent material, the endproduct's price will hit the roof. Before my friend moved from Amsterdam back south, she gave me another 10 meter of this great material. So in total there is about 12 meters left, if you are in doubt about a pleats jeans product, don't be, after these 12 meters, they will be sold out, until another deadstock angel comes on my way again. So I would say this is a limited edition:)

upcycled jeans visor
One visor 4 ways, the real feminine alternative to the long elastic visor. Great for the dutch cooler summer and because it's rollable, great to just have in your bag when on the road. The idea is to wear it like a hairband, you could even just knot it in the back and have the advantage of the visor without the drape around the head. Depending on your styling it can go from beach to city. Great with any colour, with slippers aswell as gumshoes, earrings and glasses. Each visor is reversible, with a lighter/ darker colour at the revers side, giving you even more options:)

special needs
You might have special needs, based on health issues. This can vary from having allergies to becoming bold. Often it is difficult to find the right headgear, especially because we might feel uncomfortable to try headgear in public. Aside you see different mock-ups in a variety of turban designs all in different materials, that I made for a young girl who has an auto immune system disease. She wanted something she could wear in class. Before making mock-ups she told me her wishes considering materials & style. This is what was waiting for her when she came to the studio. Can I help you? Feel free to contact me for more information.

the designer
The german designer Judith Lehthaus started her studies at the Witte Lelie, learning about hats here first, in hope of a teachers degree, before she went to the Rietveld academy. She enrolled with the idea of studying theater costume but ended up studying fashion. It was a tough choice, for a than young girl without finances or parents, in this for her foreign country. Working part time and officially also studying part time, she enrolled for 7 subjects every semester. This took it's toll and half way through she got ill and had to stop her studies for a year. To her a lot had changed in the academy in that year and when she enrolled again true to her system of 7 subjects a semester, she felt estranged but didn't give up. It was during this time she started working in a hat store down town Amsterdam. This is where she started to learn even more about hats, but still her main focus was on her studies and an offer to learn for milliner she passed. Only after she had a hidden burn out she stopped her studies. Years later she finally decided to study millinery just to find that she was seriously ill, with poor perspectives to ever work in the creative industry again. Against all odds she is now again able to use her hands for 4 hours a day and spends them all working her hat magic, trying to make timeless, slow fashion pieces of quality and with service. All her products are made by her in Amsterdam.