overview
-handmade by Judith
in Amsterdam,EU
-made to order
-online only
-
post consumer,
one-off,
new materials
This fascinator, made from a vintage tablecloth is a one of a kind and an upcycle design.
The base is from buckram covered with this cotton like material. There is enough material left to expand on the flowers if you would like something more big and overwhelming. The flowers are lined in earthy brown acetate and zigzagged with black thread which is where it's name developed. I was working on the flowers when I saw what the black zigzag in combination with the colors was doing, I was making 'pop art' flowers.
The inside is lined with the same color brown acetate as the back of the flowers and to finish it of there is a ton-sur-ton orange petersham ribbon sewn in by hand.
The only new things on this fascinator are the buckram and the hat elastic which could be substituted by a diadem.

• 56 cm= S
• 58 cm= M
• 60 cm= L
• 62 cm= XL
• 64 cm= XXL
Further more you have:
• 1fA = one fits all, not bound to any size wearable by every size

Other sizes in centimeters are anything between 54cm en 64cm. In general these are custom made sizes often used for personal designs or unique pieces.
To be able to chose the right size it is important to be accurate when measuring your head, ideally you let somebody else do it.
Go to work as follows:
With the help of a soft centimeter, measure around the head, starting at the front approximately 1cm above the eyebrows towards, approximately 1cm above, the ears and over the biggest part of the back of your head( that little bump on the back of your head). Please see picture to give you an idea.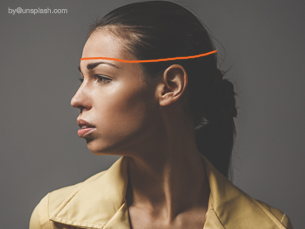 If you are not sure that you are measuring in the right way please contact me. We can set up a Skype meet, so that I can guide the measuring. A friend at your side to help would come in handy, but is not insurpurable.
Once measured you can read in the tab sizes which size you need to choose. Choose the size closest to your measured size.